USA: Beware the Jackals Who Surround Trump! (Updated)
First….. 2x Confirmations
April 24, 2019.
Keep Watching and Praying for President Donald J. Trump…!
Please Note; This is a comment below was posted on the Prophetic Word I shared a few days ago concerning "The owl and the jackals/ hyenas"!
Jacqueline Wates;
"I was scrolling through fb tonight and ran across this and thought of what you said about the jackals.
God will always use a witness in prophecy and I believe he is doing it here.
This is a video by Herman Cain comparing the news media and politicians in D.C to jackals buzzards and hyenas….
April 20, 2019.
Ha!! A friend just sent this picture to me. It looks like Fox News is catching up on the prophetic words being released. Laura Ingraham makes reference to the "Jackals still not being satisfied"!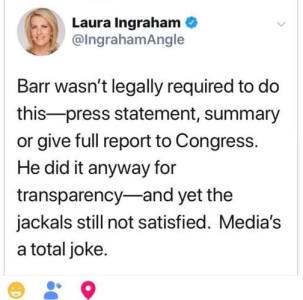 A Word of Warning Concerning President Donald J. Trump.
"Watch and pray! For the eyes of the owl will see those that prowl. Listen and pay attention — for the sound of the howl of the jackals will be heard!"
Often times I will hear a riddle in The Spirit and then a vision will open up before me.
This afternoon as I was preparing a few things before for a meeting, I heard these words, "Watch and pray! For the eyes of the owl will see those that prowl. Listen and pay attention — for the sound of the howl of the jackals will be heard!"
As I heard those words, suddenly I saw American President Donald J. Trump sitting in the Oval Office when a door swung wide open and a large owl flew into the room. It circled the room 3 times, and then proceeded to sit down upon the ledge of the open door.
As I looked at this incredible bird, the first thing that struck me was the size and colour of its eyes. Its eyes were huge and their colour was a deep and penetrating gold. Its chest was as white as snow.
Now the president seemed to be totally unaware of the owl's presence, but then suddenly I heard a sound in the realm of The Spirit and I recognised it immediately (having been born and raised in Africa and having lived in a wildlife conservation most of my life) the sound was all too familiar.
It was the sound of jackals/ hyenas and from what I remembered, they are filthy creatures and they really smell bad. In fact they stink.
Jackals/ hyenas operate only at night under the cover of darkness. They are scavengers and they feed on dead animals. They are skillful in hunting and they always kill in packs. They are incredibly resourceful and they often survive by stealing the dead prey from other predators.
But they have a distinctive sound. They shriek and they howl and their distinctive sound can be heard from a far distance.
Make no mistake, they are unpredictable and not to be underestimated and they are especially dangerous when operating in packs.
Now as I heard the sound of the jackals howl in the realm of The Spirit. I sensed an immediate warning of danger coming and then The Spirit of God spoke to me saying, "Watch and pray, for the eyes of owl must now see what prowls, for the spirit of the jackal comes under the cover of darkness to devour and to destroy in this hour!"
Friends I submit to you there is an urgency to pray against this "jackal spirit"!
It's the first time I have heard of this spirit — but as I have gone to the Word of God for confirmation of what I was hearing and seeing, I saw that jackals/ hyenas are mentioned many times in the Bible and in all occasions it speaks of death and destruction.
Interestingly, as I was looking at the meaning of the Jackal in the Bible, I saw this verse in the Book of Job which says, "I am a brother of jackals and a companion of owls" (Job 30:29).
The jackal speaks of death! The owl while also being a nocturnal creature it is symbolic of the apostolic and the prophetic.
The owl lives in the darkness and has eyes to see through the darkness. It can see far into the distance. It can see the smallest of creatures moving in the darkness.
Owls can see what the enemy is planning and plotting. Owls are incredible hunters, highly skilled and extremely accurate and precise and they are powerful creatures. Owls always speaks of great wisdom, revelation, strength and strategy.
In this hour, I believe God is releasing a warning of a jackal spirit that is coming to devour and destroy, but God is also raising up and releasing the owls (apostolic and prophetic) to counteract the wiles and schemes of the enemy.
The owls must be watching and praying consistently and strategically for President Donald Trump in this season.
I believe God is now releasing a greater level of authority, wisdom and revelation. His Owls will see clearly in the darkness.
They will see far into the future, for surely nothing will catch them off guard, but every secret plan and plot of the enemy will be exposed and thwarted.
---
A word of confirmation for the great nation of America…!
As I listened to the news report today I was reminded of this Word which God gave me in July 2018…
I heard the Spirit say this morning, "Listen! For even now there are those who are plotting and scheming behind closed doors and under the shadows of darkness they conspire with one another against My Anointed one.Listen!
They shout, "Collusion! Collusion! Impeach! Impeach," but fear not!
For I shall set among them a strong spirit of delusion and they shall believe their own lies.
For they have turned their backs on the Truth and the Light that I have given them.
Now watch! For great will be their fall, their destruction is inevitable and their ruin irrecoverable.
Watch and pray, for suddenly My Spirit will move like a mighty whirlwind to destroy their works of witchcraft and corruption," says God.
"And to My Anointed in the White House, watch and pray!
For he shall rise higher and higher and he will be known as a "KING" among the leaders of the nations, for I have set a seal upon him.
And those who would dare to touch My Anointed, will touch the Apple of My eye.
For have I not said I have taken hold of his right hand to subdue nations before him?
YES! To strip kings of their armour!
For It is I who goes before him to open doors.
It is I who goes before him to level every mountain and to break down the gates of bronze and to cut through bars of iron.
YES! It is I, the King of Glory, who now gives him hidden treasures and riches stored in secret places so that he will know that I AM the LORD His Creator and God.
For even while he was in his mothers womb, I chose him and anointed him for such a time as this," says the Spirit of God.
Blessings to you all.
~ by Veronika West
---