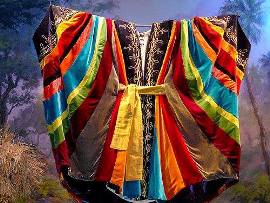 Wade Urban said something tonight that was so freeing to me.
He said that Joseph was given a coat of many colors by his father to wear and he knew that when He wore it that it made his brothers jealous but he wore it anyway!! Why,because his father gave it to him!! He wore it knowing that he would be persecuted.. Knowing that every time he put that coat on he was talked bad about by his brothers who should have loved him the most!!
Many of you have been given a gift and a mantle to wear and you have taken it off to keep people that are jealous of you happy but I hear the Lord saying.. You rise up and wear that coat anyway,because your Daddy gave it to you!! He wants you to wear it and wear it well!! Don't worry about your jealous brothers because one day God may use that very anointing to set them free!!!
~ by Jo Ellen Stevens
Arise Shine!
---
Jo Ellen Stevens of TCIC Ministries is a Prophetic speaker, author, worshiper and intercessor. She has ministered with her husband for 23 years and was a worship leader at the Assembly of God for many years. She is an ordained minister (Restoration Ministries) and works with Restoration Ministries in their Ministry Rooms doing prophetic worship with her husband. She has taught many bible studies and have led many intercessory prayer groups.