Words for Canada: Painted Confirmations!
A Word for Canada: A Whirlwind Comes Upon the Maple Tree: A Leaf Will Fall..!
By the way, a friend of mine recently sent the prophetic word I released a few days ago for the Nation of Canada to a friend of hers who lives in Canada and who runs a large Prophetic Company of Artists.
On reading the submission they were blessed and felt to share a powerful picture (see below) as a confirmation to the Word that I shared.
This picture (1) was painted at one of there recent Prophetic Gatherings and it confirms many things that was revealed to me in the Vision.
I was amazed at the detail in this beautiful painting, the Whirlwind stood out to me first…!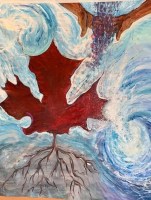 1. A Word for Canada; A whirlwind comes upon the maple tree. A leaf will fall.
See HKP post: A Word for Canada: A Leaf Will Fall!
2. Please see the second picture (left) which was painted for Canada… which I believe also confirms the first Word God gave me for Canada that was shared; "Canada will know him as the good shepherd."
See HKP post: A Word Concerning Canada!
Blessings to you all.
~ by Veronika West
---