America and The Whirlpool of Wonder
"The Whirlpool of Wonder, the Gravity of His Glory…  A Divine Convergence;  A Nation being unplugged and a draining of demonic powers and principalities of darkness!"
Last night I was sitting quietly before The LORD and I was journaling as The LORD spoke to me when suddenly I was caught up in a powerful vision, where I saw the Right Hand Finger of God come out of the heavens and it touched the nation of America.
As His Finger touched the earth, I saw what looked like a sudden lightening storm hitting the land, and as I looked at the bolts of white lightening, suddenly I heard these Words, "The Whirlpool of Wonder that has The Gravity of My Glory within it."
As I heard those Words, I saw The Finger of God begin to move in an anti-clockwise direction, round and round His Finger moved.
Seven times I counted, as His Finger moved upon the nation.
Now as I stayed watching His Finger moving, I saw what looked like a gigantic Rainbow Whirlpool forming over the land and I heard these words, "Watch!  For a Divine Convergence of the manifest Power of The Seven Spirits of God shall move to purge and purify this Nation.
And The Gravity of My Glory shall now draw out the demonic powers of darkness that have been deeply rooted in this land.
Watch!  For now I AM pulling the plug and draining this nation of the filth and the perversion that has been a rotten stench in My Nostrils.
Watch!  For My Finger of Righteousness and Justice shall move, yes! 
Seven times it shall move to reverse the curse that has been upon the land, for now The Whirlpool of Wonder and The Gravity of My Glory shall be seen and a nation shall be cleansed and My Covenant Blessings shall be restored!"
Please see pictures in my journal of something of what I saw in the realm of The Spirit.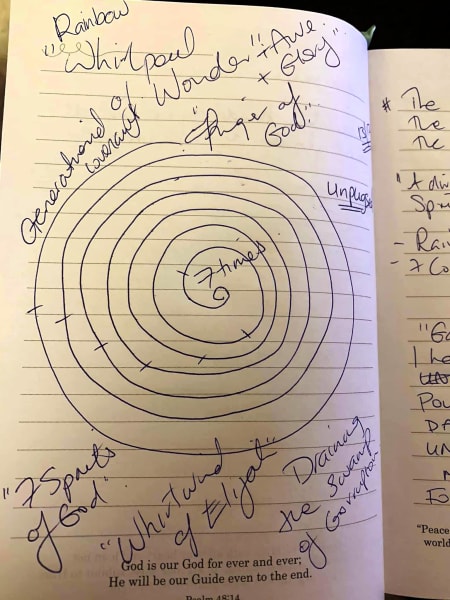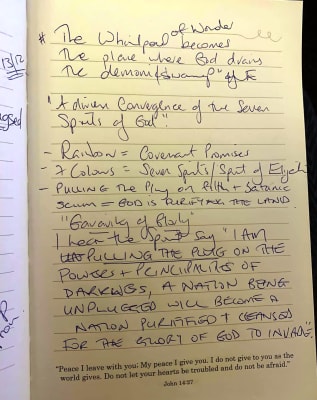 Blessings to you all.
~ by Veronika West
---