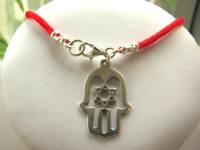 God says that if you know there is danger, you need to warn or their blood will be upon your hands.  That is why I am making such a big deal out of this topic.
This is a Kabbalah amulet with the star of David in it.  You would think this wouldn't be as bad to have, rather than the one with the evil eye in the middle of the hand, but they both are demonic and have nothing to do with the true Jewish faith.
Those who have entangled themselves with Kabbalah, have fallen away from Jesus because of the Antichrist spirit behind Kabbalah.  It is very dangerous to get off balanced with the messianic movement.  Some have gone to the extreme to have gone back to Judaism, actually renouncing Christianity!
This amulet, but with an eye in the middle, with is a Hamsa hand was placed within the Jewish Heritage Bible.  What does darkness have with light?  How can we condone having a Bible that has an occult symbol right in it?
How can anyone place that in the Bible?  This is the bible that Trump received.  That occult symbol itself has demonic power in it.
Some justify partaking of the occult, saying that it is sanctified by the Holy Spirit, because we are Christians and like Yoga.  This is wrong and it is giving the enemy access to your life and it is also taking away your authority over the enemy.  This is an open door to the occult!
These are the days when we have to make sure our Armor is secure, every part of it, to be able to stand against the threats of the enemy!
Please check your Armor and pray if there is any area of deception you have opened yourself up to.
Many follow the multitudes, the leaders in the camp, and ignore the check in their heart.  When you ignore what the Holy Spirit is warning you of, you become hard and unteachable.  These are important days to cast off the works of the flesh and make ourselves clean, renounce the enemy, and get in rank to follow our Captain, the Lord Jesus.
We must be bold and not give into the intimidation of the enemy.  When we stand up for truth, we will not always be received even by those in your own camp.  The strongest persecution will come through the religious camp.  I pray great grace and favor and truth over everyone who reads this in Jesus name.
~  Yolanda Ballard
---
Yolanda Ballard of At The Father's Feet website, shares with you, the body of Christ, the words she's received quietly sitting at the Father's feet. I believe Jesus set the example for us to follow. Whenever He could He would come apart from the busyness of the world so that He could quiet Himself before the Father, for that is where He received direction and strength to carry out His will.