"Sir Ernest Shackleton's Ship "Endurance"…found!"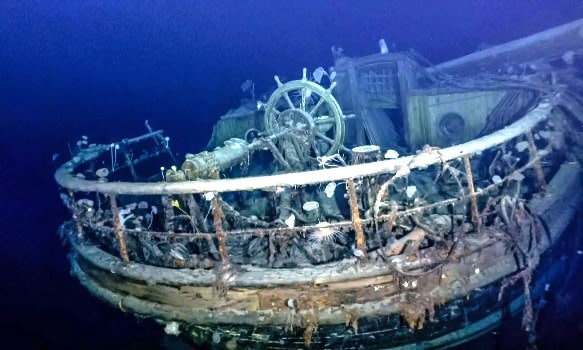 Now, as my eye caught this News Headline yesterday, I literally felt the anointing of The LORD fill the room I was standing in, and I knew that the discovery of this ship in this season is not a mere coincidence, but rather a powerful Prophetic Sign to The Nations, a Heavenly Announcement — being released over The Nations of the earth.
As I began to pray, The Holy Spirit spoke so clearly to my heart, these Words, "I AM now releasing the oil of My Anointing upon My Remnant in this hour, that will enable them to stand bold, courageous, Faith-filled and fearless, in the face of great conflict and turmoil in The Nations.
For not by might, nor by power, but by My Spirit, My Remnant shall run with great Endurance and shall overcome in great Victory and Triumph in the days ahead!
I say, Watch, for that which has long been buried and hidden out of sight, shall suddenly be unearthed and recovered!
Watch! As the light of My Glory now rises upon The Nations.
For that which has been concealed in darkness will be revealed in the Light.
See! For even darkness is light to Me. Yes! From the very depths of the oceans and from deep beneath the ground, I shall bring a supernatural stirring, a Divine Agitation that will disrupt, displace and dismantle, for that which has laid life-less and dormant, shall suddenly receive The Breath of Resurrection Power that will reignite and fully Revive.
So, Watch and Pray beloved, for this is surely a time and a season of Divine Exposures and new discoveries in The Nations, as My Spirit now broods over the land and the waters of the sea.
So get ready, for in the midst of great shaking, I shall bring forth great treasures from the deep.
Yes! For even a new source of energy will be discovered in the days ahead, that brings great wealth and prosperity to My Sheep Nations.
For this is a time of Supernatural Recovery, recovery and great Reward, and that which was lost and stolen by the hands of the devourer shall be fully restored and redeemed!"
See UK "Endurance" News Article here.
Postscript
A follow-on from the above post on the Ship called "ENDURANCE" being discovered, as I have stayed praying over it, The LORD quickened to me this powerful Vision.
I believe there are powerful prophetic parallels unfolding now in this season.
Well, this vision speaks largely to the Nation of The United States of America. I believe this Word is speaking loudly over many Nations that are now in the midst of Great Conflict….
Please take time to read slowly through this Word, as it reveals many prayer strategies for the hour,
Blessings to you all.
~ by Veronika West
---