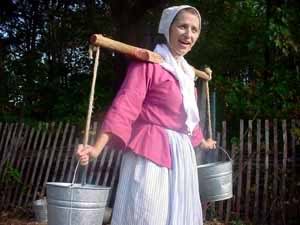 Recently, I asked a meeting of pastors and church leaders if they knew what a yoke was. Only a couple of hands were raised – the great majority did not know. It wasn't surprising really, because in their culture, even today, burdens are carried on one's head, not on a yoke.
In Matthew 11:29-30 Jesus says: "Take My yoke on you and learn of Me, for I am meek and lowly in heart, and you shall find rest to your souls. For My yoke is easy, and My burden is light."
Jesus asks us to take His yoke. The first question is: What is a yoke?
From the picture, you can see that a yoke is a means of carrying burdens. Yokes are used on animals to pull agricultural implements such as ploughs, but are also used by humans too, as a means of carrying loads.
In fully understanding the use of the meaning of "yoke" used here by Jesus, we need to first understand some basic practical concepts about yokes:
Yokes are a means of carrying burdens. Yokes are still used in China and other places to carry, for example, bricks on a building site, or in the West, to carry buckets of milk.
The burdens on yokes are usually carried for someone else. In other words, the carrier is not the owner of the burdens.
If you are carrying a yoke, you are not free, but working for someone else.
The burden is in two parts.
When Jesus asks us in Matthew 11:29-30 to take his yoke, that request also includes us taking the burdens he is carrying. But read what Jesus says about His yoke and the burden:
He says: "My yoke is easy"
He says: "My burden is light"
But just what was the burden that Jesus was carrying? Indeed, what WERE the burdens Jesus was carrying, and for whom do He carry them?
To answer these questions, let's look at two verses of the Old Testament, Isaiah 9:6-7, with which both Christians and non-Christians alike, are very familiar, for they are quoted and used widely all around the world each Christmas season:
"For to us a Child is born, to us a Son is given; and the government shall be on His shoulder; and His name shall be called Wonderful, Counsellor, The mighty God, The everlasting Father, The Prince of Peace.
There is no end of the increase of His government and peace on the throne of David, and on His kingdom, to order it and to establish it with judgment and with justice from now on, even forever. The zeal of Jehovah of Hosts will do this." Isaiah 9:6-7.
The first burden which we find that Jesus was carrying was "the Government" of this world, of earth, and He was carrying if for us.
If we will but take it, take his gift to us, in Matthew 11:29-30 we find that Jesus is giving back to mankind that which we lost in the Garden of Eden; dominion and rulership of the earth.
Most Christians don't seem to really get this, but Jesus is asking us to take the Government of earth back, so that and as we then learn from Him, we "shall find rest to your souls."
Genesis 1:26 makes it very clear that this was the reason we were created, to have dominion over the earth. What God designs for, He builds in the ability. This is why Jesus said that if we take His yoke and take over His burden, we will "find rest," for it was precisely for this purpose, which God made us for in the first place!
The second burden which we find that Jesus was carrying is found in Isaiah 22:22, again in the Old Testament:
"And the key of the house of David I will lay on his shoulder; so he shall open, and none shall shut; and he shall shut, and none shall open…" Isaiah 22:22.
The second burden is the Key of the House of David. Revelation 3:7 references Isaiah 22:22 saying of Jesus "… these things says He who is holy, He who is true, "He who has the key of David, He who opens and no one shuts, and shuts and no one opens."
All Pentecostals and Charismatics are certainly familiar with the verse which relates to this, Matthew 16:19, though generally in a limited capacity and referencing it only to "binding and loosing" in deliverance,
"And I will give the keys of the kingdom of Heaven to you. And whatever you may bind on earth shall occur, having been bound in Heaven, and whatever you may loose on earth shall occur, having been loosed in Heaven." Matthew 16:19.
Keys are a symbol of Authority. Keys allow the exercise of authority. For us to have dominion of the earth, but without the necessary keys to operate it, means we cannot achieve that which we were created and commissioned to do.
The Yoke of Jesus can therefore be seen as follows: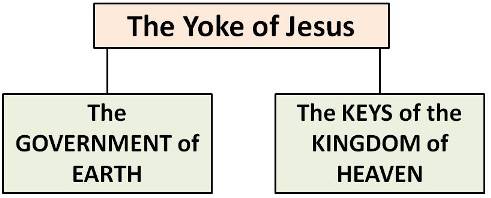 ---