Victory, Truth, Light and God's Glory
I Decree : Every darkness shall be brought out and the light of Christ shine upon it, that every slavery, controlling spirit, every hopelessness and depressive spirit be cast down.
I Decree : Victory, Truth, Light and God's Glory shall be witnessed in every heart, open visions, dreams and hope be revived and every religious spirit be taken down and separated from the church of Christ's love and grace, that all lies shall be found out and every truth shall be risen up and blessed by our Almighty God in Jesus name.
I Pray and Decree : This shifting of power from heaven to earth is set and Victory is The LORD's over the earth.
Amen
"The earth is the LORD's, and the fullness thereof; the world, and they that dwell therein. For he hath founded it upon the seas, and established it upon the floods. Who shall ascend into the hill of the LORD? or who shall stand in his holy place?" Psalm 24.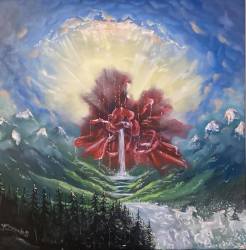 ~ Yvonne Coombs
---
Yvonne Coombs. Please also see Yvonne's Prophetic Art here at "Yvonne's Paintings" on Facebook and on Instagram @y.coombs.art.