I owned a gallery some years back in Albuquerque [where I sold my Stone Sculptures I sculpt] and experienced some things that I will never forget.  [Some lessons about People and their response to my Stone Sculptures.]
I got to noticing that many people would come into the Gallery, look, directly at everything  and then walk out without saying anything.  So I decided I would ask them what they thought about my Sculpture to see what their opinion was.  I picked out the largest Sculpture in the Gallery in the most prominent position and on the center Pedestal, I then would wait till they walked all around looking and as they were going toward the exit, I walked up and asked them this question:  "What did you think about my large sculpture?"
A lot more than half the people, never even saw it!
"What Sculpture?" they would say.  I then would take them back to see it…. "Wow," they would say,  "That is absolutely beautiful.  Wow, I did not see it!"
I did find that then I could sell them the sculpture, because they saw, it and liked it.  I adopted this method in selling my sculptures.
Now, I want to use this illustration to make a point here: How many people go to church to hear the preacher and never even hear him?
They walk in and then walk out and nothing ever changes in their life!
I have found the number embarrassing.  Yes, totally humiliating for sure.  They never even heard me speaking, though they did act like they did.
"Was it my fault?" I asked, Did I not say it loud enough or with enough love?  Why did they not even hear the message?
This morning, Celeste and I got into a deep bible discussion.  It got heated and we both got wound up and excited.  At one point, I was standing in the living room literally shouting out truth in excitement, and then I looked to see our little dog Pogo, sleeping on the couch.  Yes sleeping right through all the shouting and excitement!  I laughed and told Celeste: "Pogo is sleeping right on…..!!!!!!!! Ha ha ha."
Well, it is a truth that many people come to listen, but do not hear.  Why?  I have been thinking in answer, that they talk about being a christian but they do not walk it.
Many are coming, but few really want to hear.  Is it that they are so preoccupied with their thoughts and life that nothing can get through?  Is is they are fixed in mind and cannot be interrupted?  Why?
Are you one of these?  Just walking through life and not seeing or hearing.  You can hang out on this profile and others and talk all day long, but really you are sleeping right through the message, and when your feet hit the ground you do not walk what you talk.
Sorry, I just felt in my spirit this needed to be said.  I have first asked myself this question.  Now I am asking you the same question: "Did you see the sculpture?  Did you hear the message?  Are you walking what you say?  Or are you totally closed minded to truth and change?"
"But prove yourselves doers of the word [actively and continually obeying God's precepts], and not merely listeners [who hear the word but fail to internalize its meaning], deluding yourselves [by unsound reasoning contrary to the truth].  23 For if anyone only listens to the word without obeying it, he is like a man who looks very carefully at his natural face in a mirror; 24 for once he has looked at himself and gone away, he immediately forgets what he looked like.  25 But he who looks carefully into the perfect law, the law of liberty, and faithfully abides by it, not having become a [careless] listener who forgets but an active doer [who obeys], he will be blessed and favored by God in what he does [in his life of obedience],"   James 1:22-25 AMP.
* * * * *
I AM STANDING IN THE WAY PREACHING, DO YOU HEAR ME?  HEY…. I AM HERE: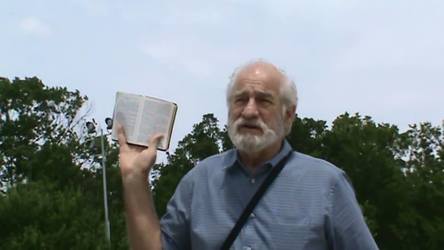 ~ Desert Prophet Ken Dewey
---
Evangelist/Prophet/Pastor Ken Dewey is the founder of "OUT OF THE DESERT MINISTRIES" in Belen, New Mexico, USA. He writes on this Web Site, many Prophetic words, Sermons and teachings while leading people into true church settings and preaching in an End Time Gospel Tent Ministry.

NOTICE

: One of the ways you can get involved in this OUT OF THE DESERT ARMY is to become a PARTNER or to GIVE A DONATION. We are believing God for many more Monthly Partners to stand with us in Monthly Giving and Offerings. If you have a desire to help and give, please know we need your help. God is sending people as I write to this place. We need your help and prayerful giving to enable us to do more for more people. Please send you pledge to becoming a Monthly Partner or to sow an offering into this Ground. To make a donation to OUT OF THE DESERT MINISTRIES please send to: PO BOX 223, BELEN, NEW MEXICO. PLEASE PRAY ABOUT SENDING A LOVE OFFERING TO SOMEONE WHO IS IN THE MIDST OF THE BATTLE FOR SOULS.. AND TO OPEN BLINDED EYES OF THOSE WHO ARE SLEEPING IN THE BODY OF CHRIST. WE NEED YOUR HELP TO DO ALL THAT GOD IS SAYING FOR US TO DO. THANK YOU ALL …