A Demonic Pig with Wings and a Crown!
"A demonic pig with huge wings, wearing a gold crown upon its head!"
Ha! I thought I was going mad, but this afternoon I was busy but praying fervently for the nations, when suddenly I was caught up in a strange vision where I saw what looked like a demonic pig with huge wings wearing a crown upon its head.
At first the pig was wading in deep mud, but then this demonic pig began to flap its huge wings and it took to flight…. and while flying, suddenly I saw its wings being clipped and it began to fall rapidly to the ground.
Just before I saw the pig hit the ground, the crown which sat upon its head fell to the ground and shattered.
As I looked at this strange demonic pig with wings and a crown upon its head, I immediately questioned what I was seeing and I said to myself, "Pigs don't fly and they certainly don't wear crowns!"
No sooner had that thought crossed my mind, The Spirit of Revelation spoke these words to me, "The swine-virus, the bird-virus and now the crowned-virus.
Now watch! For just as I clipped the wings of the bird, drove the swine into the depths of the sea, so I will cast down the counterfeit crown that has exulted itself in the nations.
Therefore watch and pray — for My Spirit will now move to clip the wings of the demonic fowls of the air and drive the satanic swine from within the midst of you and cast down every counterfeit crown that have sought to exult itself in the nations of the earth!"
Postscript:
This pig looks somewhat friendly and it's got small wings, but you get the idea of what I saw…!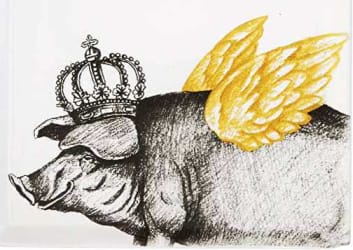 Please also check out a Word a posted about DEMONIC PIGS on January 24, 2020 — very powerful Word warning of demonic swine that feed off the precious pearls of the prophets:
Blessings to you all.
~ by Veronika West
---