Prophetic Warning of Demonic Swine (Updated)
Prophetic Warning: Demonic swine that feed off the precious pearls of the prophets!
This morning I had a powerful yet strange spirit encounter as I was talking with someone about some important prophetic insights and prayer strategies for the nations.
As I began to talk about American President Donald J. Trump and a few other leaders of the nations, suddenly I saw into the realm of the second heaven were I saw demons that had strange pig like facial features and each one had 10 eyes and 10 ears.
Their eyes were like that of chameleons, able to see in every direction, and their ears were large and deformed. Their spirit bodies were covered in what looked like a thin skin which seemed to ooze with a mucus like substance.
Now as I looked at these strange and grotesque demonic beings, suddenly I could smell a putrid odour.
Then The Spirit of Revelation spoke to me saying, "Daughter, these are unclean spirits, demonic swine that feed off the precious pearls of the prophets.
These demonic assassins are lurking spirits always seeking out the conversations of those who carry the hidden secrets and mysteries of The Most High.
Daughter, watch and pray! Be vigilant in this hour to set fire-walls and supernatural sound proofing around your conversations, for these demons are sent to trample under foot precious Words of Wisdom and Revelation and to steal and undermine the power of the secret prayer strategies of My Prophets and Watchmen!"
As I heard those words, I saw in the realm of The Spirit that as my words were being released into the atmosphere, the demons would go in to what looked like a feeding frenzy, which immediately began to affect the spiritual atmosphere — as a thick dense fog began to appear and there was a tangible sense of a heaviness.
Then I saw other demons beginning to manifest in the midst of all the demonic mayhem, and demons of distortion and confusion, demons of fear and torment, demons of gossip and slander, and then demons of destruction and death were attracted to the swirling and whirling that was taking place in the atmosphere.
Then I saw the swine-like demons, unclean spirits, trying to take hold of my words which were being released and which looked like arrows of silver and gold and they tried to trample and break them under foot.
Some of the demons were attempting to eat and swallow the arrows in order to prevent the power of my words from penetrating the darkness.
The demons seemed to be attracted to both the sound of my words and also the power and authority within my words.
By watching their behaviour as they continued to try to trample upon my words and eat and consume my words, they were seeking to be infused and fuelled by the power that was in the words, as ultimately, their desire was to diminish and destroy the anointing and the authority that these words carried, to bring forth divine exposures and supernatural breakthroughs.
This spirit encounter really impacted me. I saw again with great clarity that there is not only great power and authority within our Words, but also that our Words are like precious pearls and that they carry great value and weight in the realm of The Spirit.
The demonic world seeks to destroy and disarm both the power and the value of our words. Hence therefor, we need to be wise — not only with what we say — but when we say it, where we say it and to whom we say things to.
Our words carry resurrection power to bring life, light and liberty and they have the power and authority to change, shift and redirect nations.
Our words are not carnal, but powerful to the pulling down of every stronghold.
I strongly believe that there is a need in this hour to set fire-walls of God's protection around our conversations, especially when discussing the hidden secrets and strategies of Heaven for breakthrough and revival.
I believe these Holy Fire-Walls will create a supernatural sound proofing that will prevent the infiltration of these demonic spirits in our prayer times and conversations.
Postscript: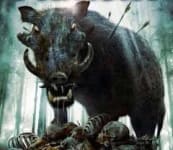 This is not a picture of what I saw, but maybe you can get a fair idea.
Update:
Check This Out: Prophet and Code Breaker; Abel Praise of Kingdom Military Missions.
I have received this prophetic code-breaking word from Abel Praise of Kingdom Military Missions regarding two recent Words.
"Very Warm Greetings Dear Ma.
I trust you are doing well.
It's amazing to follow through the prophetic insights you have been sharing and seeing amazing alignments.
I am urged to write to share perspective on the two words you shared yesterday and today concerning the New Religion and The Swine that eat up Prophetic Pearls, and how they line up with several words concerning increase in prophetic ministry, and also the war in the heavens specifically concerning prophetic thrones aligned to Angelic ministry and why this is a raging warfare into the season ahead, for the nations and for the 2020 elections; so we know how to petition and march along in praying. (See also update to HKP Word: "Warning: Climate Change — The New Religion.")
* The encounter you had of the wind-vane, speaks of the Winds. The winds speaks of the ministry of spirits, and can either be angelic or demonic depending on context.
The utterance that followed this being; "Watch and pray fervently, for a new religion will rise that will seek to captivate the hearts of many, brainwash minds and bringing forth great destruction upon many nations."
The prophetic mystery there is the word, 'religion', which actually speaks of in this context, 'Legion'."
Blessings to you all.
~ by Veronika West
---