How to find God's Perfect WILL!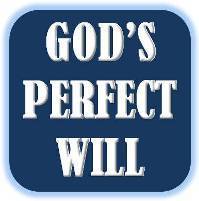 There is someone here reading this word that has asked God for HIS PERFECT WILL FOR THEIR LIFE. You have said to Him, I do not want your permissive will or any second best plan… I WANT YOUR PERFECT WILL FOR MY LIFE TO BE DONE.
***Now that you have prayed……. YOU ARE EXPERIENCING A LOT OF TROUBLE and NOTHING seems to be going right. Everything seems to be going wrong and you can't even find enough money to do all you need to be doing. It is as if GOD HAS FORGOTTEN YOU. You pray and it seems that the Heavens are Brass. WHY YOU CRY… WHY ARE YOU DOING THIS TO ME LORD? WHY…. WHY… WHY…. WHY????????????????????
QUESTION: Have you got any Plans? Than what are they? Have you ever stopped to think that GOD HAS A BETTER PLAN? [I know people, and have experienced this myself in my past…] Who have gone on for YEARS trying to make something work and only coming to failure. It is as if they CAN NOT BE TOLD ANYTHING. They are dead set on making it work. They want their plan to work. They want their opinion to go forth and prove it to everyone, most of all to themselves.
Have you ever thought that what you want to do is NOT what God wants you to do? PERHAPS YOU NEED TO STOP DOING WHAT YOU ARE DOING AND JUST KNOW THAT GOD WANTS SOMETHING ELSE?
WHY NOT JUST SUBMIT TO THE LORD.. ??? Say to him, I WANT YOUR WAY. I QUIT MY WAY. NOW BRING YOUR PERFECT WAY INTO MY LIFE.. I WILL GO.. I WILL DO, I WILL SUBMIT.. TO…..
WHAT EVER YOU WANT. I WILL DO IT.
Read these verses:
Romans 12:1-2 Amplified Bible (AMP)
"1. I appeal to you therefore, brethren, and beg of you in view of [all] the mercies of God, to make a decisive dedication of your bodies [presenting all your members and faculties] as a living sacrifice, holy (devoted, consecrated) and well pleasing to God, which is your reasonable (rational, intelligent) service and spiritual worship.
2. Do not be conformed to this world (this age), [fashioned after and adapted to its external, superficial customs], but be transformed (changed) by the [entire] renewal of your mind [by its new ideals and its new attitude], so that you may prove [for yourselves] what is the good and acceptable and perfect will of God, even the thing which is good and acceptable and perfect [in His sight for you]."
When you diligently do the above, you WILL find yourself MOVING IN GOD'S PERFECT WILL. I believe this.
BUT WHEN YOU DO…. MOST LIKELY YOU WILL STOP ALL YOU ARE DOING AND JUST TAKE CARE OF THE ABOVE. I heard a preacher say one time, "IF WHAT YOU ARE DOING IS NOT WORKING, CHANGE WHAT YOUR DOING." When you follow this advice from the Scriptures above it will cause RADICAL REVIVAL IN YOUR LIFE. In the midst of it, YOU WILL KNOW OF GOD'S PERFECT WILL!!!
– Prophet Ken Dewey
---


Evangelist/Prophet/Pastor Ken Dewey is the founder of "OUT OF THE DESERT MINISTRIES" in Belen, New Mexico, USA. He writes on this Web Site, many Prophetic words, Sermons and teachings while leading people into true church settings and preaching in an End Time Gospel Tent Ministry.
To make a donation to OUT OF THE DESERT MINISTRIES please send to: PO BOX 223, BELEN, NEW MEXICO, our visit our Donations Page, for PayPal.
PLEASE PRAY ABOUT SENDING A LOVE OFFERING TO SOMEONE WHO IS IN THE MIDST OF THE BATTLE FOR SOULS.. AND TO OPEN BLINDED EYES OF THOSE WHO ARE SLEEPING IN THE BODY OF CHRIST. WE NEED YOUR HELP TO DO ALL THAT GOD IS SAYING FOR US TO DO. THANK YOU ALL …