Day 13:
Read Matthew 26:31-35.
The fact that all of the disciples would desert Him was known to Jesus. It was even prophesied in the Old Testament.
In this passage, He is trying to prepare them for one of the most difficult times they would ever experience. Rather than taking the LORD's words to heart, Peter denies that what Jesus is preparing them for will ever happen.
Because he denied the possibility, he could not receive the preparation. The LORD still gives us prophetic words to prepare us for what is to come.
In verse 32 Jesus gives them an incredible promise; that He will rise from the dead and go before them to Galilee. True prophetic words will always have a promise of redemption, no matter how hard the words are.
Peter was so focused on convincing the LORD that he would never deny Him that he missed this awesome statement.
Ask the LORD to make you very attentive to what He is saying, so that you are fully prepared for what is ahead and have the promise of the LORD to see you through.
Jesus Predicts Peter's Denial
"Then Jesus said to them, "All of you will be made to stumble because of Me this night, for it is written:
'I will strike the Shepherd, and the sheep of the flock will be scattered.'
But after I have been raised, I will go before you to Galilee."
Peter answered and said to Him, "Even if all are made to stumble because of You, I will never be made to stumble."
Jesus said to him, "Assuredly, I say to you that this night, before the rooster crows, you will deny Me three times."
Peter said to Him, "Even if I have to die with You, I will not deny You!"
And so said all the disciples," Matthew 26:31-35.
---
Let the River Flow
If ever we need to gain revelation from Heaven, it is today.
Do not miss this incredible weekend to unblock the river that is within you! Anyone who has a desire to learn how to capture and express revelation from God should be here (or on the web) on February 24-26 for Let the River Flow: The 2017 School of the Prophets!
Prophecy is speaking the mind and heart of God, as revealed by the Holy Spirit. Prophecy is the outflow of the heart and the very nature of God. When God speaks to us, whether by prophecy or any number of other means, His purpose in doing so is to bring a new level of revelation to our lives.
Revelation is essential for living a victorious Christian life. We need the spirit of wisdom and revelation in order to accomplish the hope of God's calling over our lives. We need God not only to reveal what our next step should be, but we also need Him to reveal the snares the enemy has set for us on the road ahead, so that we can walk in wisdom.
Revelation 19:10 says that the testimony of Jesus is the spirit of prophecy. Jesus cares about His Church and He, therefore, has things He wants to communicate to His Church.
Those communications come by way of the Holy Spirit. That is prophecy. It is what Jesus is saying to His Church. The testimony of Jesus, which is prophecy, is not only a corporate promise. Jesus says that His sheep know His voice (John 10:4).
If you are one of His sheep, you have the capability, the capacity, and the privilege of hearing the voice of your Shepherd that comes through the Holy Spirit.
Prophecy is also important because God tells us we should desire to prophesy (1 Corinthians 14:1). He warns us not to reject prophecy (1 Thessalonians 5:20-21), and that prophecy releases the life and power of God (Ezekiel 37:7-10). Without prophetic revelation, a people perish (Proverbs 29:18).
Joining me here at the Global Spheres Center are Barbie Breathitt, Robert Heidler, Gerardo Ortega, Robyn Vincent, and Barbara Wentroble.
We will begin on Friday night at 7 PM, meet all day Saturday, and conclude on Sunday Morning. There is no cost to attend, so go to www.gloryofzion.org or call 940-382-7231 to register today.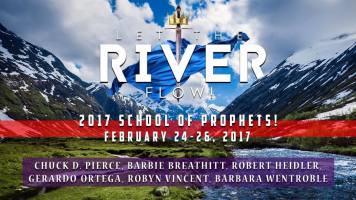 Blessings,
Chuck D. Pierce
Glory of Zion International Ministries
Website: www.GloryOfZion.org
Email: chuckp@glory-of-zion.org
If you would like to give to the ongoing work of this ministry you can donate online, by calling our office at 1-888-965-1099 or 1-940-382-7231, or by postal mailing your donation to Glory of Zion, PO Box 1601, Denton TX 76202.
---
Charles D. "Chuck" Pierce serves as President of Global Spheres, Inc. (GSI). This is an apostolic, prophetic ministry used to gather and mobilize the worshipping Triumphant Reserve worldwide. GSI facilitates other ministries and participates in regional and national gatherings to develop new Kingdom paradigms. Peter and Doris Wagner complete the leadership team of this new wineskin. Chuck is President of Glory of Zion International Ministries, a ministry that aligns Jew and Gentile and is known for his accurate prophetic gifting which helps nations, cities, churches and individuals understand the times and seasons in which we live.