Prophetic Word for Nigeria and South Africa
The inter-marrying of two great nations – Nigeria and South Africa.
The nations of Nigeria and South Africa will play a strategic role in the greatest spiritual move the world has ever seen since it's history.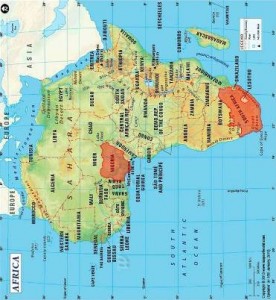 It is no wonder why Satan and his cohorts are fighting tooth and nail to destroy what God has ordained to be. Take a look at the map of Africa from this point of view and you will see that Nigeria is the trigger of the end-times move, but South Africa is like the nozzle of the gun through which the revival will spread across the nation's of the world.
Nigerians and South Africa MUST learn to walk together in the spirit of unity to fulfill their prophetic destiny as a nation.
Where are the spiritual people of God who will understand the spiritual connections between these two nations…???
---
South Africa
South Africa, thus says The Lord.
I have seen prophecies spoken over people, lands and nations come to pass and I heard The Lord speak audibly to my hearing saying "South Africa, do NOT go to war!"
No matter what South Africa, do not opt for war! Seek the way of wisdom that will lead to peaceful co-existence!
~ by Mark Cyril
---
Author, teacher, motivational and conference speaker, Pastor Mark Cyril is the international President of CYRIL MARK WORLD EVANGELISM – an independent ministry taking the message of the cross across the Nations turning many in their numbers to salvation through Jesus Christ. He is also the Senior Pastor of Revelation Apostolic Community; an apostolic and Prophetic Word based ministry in Abuja the capital city of Nigeria – West Africa.