Prophetic Word for the Nation of Fiji
The LORD interrupted my sleep last night and in that deep sleep he took me away as if dead.
He mentioned to me the Nation of the Republic of Fiji.
When he mentioned that name, the gravity of that word shook me, it pierced my soul, my bed shook and He, The LORD, shook my body too. He frightened me and it was Iike I grieved for Fiji.
The Nation of Fiji became part of my soul. I don't know the eruptions and shaking coming to Fiji, but this morning I have prayed for that Nation that let be it The LORDs shaking. There is a shaking coming to Fiji, may these precious people see God in it, find God in it and return to God through it.
Precious people, God is marking his servants and drawing the nations, specific Nations that knew not The LORD for Revival for a brief but most powerful revival that shall restore the church just before the messiah come.
May this shaking on Fiji destroy altars of Baal, witchcraft, devil worship and false religions. I pray that Fiji does recognize her day of visitation and come to God.
~ Prophet Peter Odhiambo
---
Prophecy Fulfilled
Since Prophet Peter issued his Word, the Republic of Fiji has been in the international news – which it never was before….. (see links below).
First was:
Second was:
Elections to be held in Fiji in September 2014.
Third was: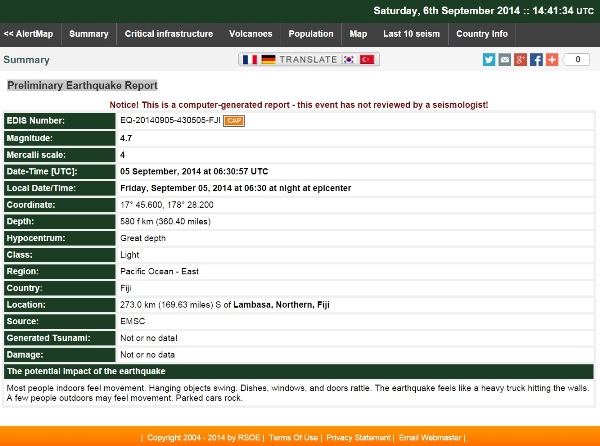 There is certainly a shaking now going on in Fiji. Prophet Peter reported to His Kingdom Prophecy on September 7, 2014 that the capture of the Fijian peacekeeping troops was the start of the shaking and more is to come.
Please pray for Fiji.
---
Prophet Peter Odhiambo of Heart Revival Network International, Kenya is a Prophetic End-Time Minister of the Gospel, preaching in Crusades and open air Revival meetings. The LORD continues to show him the apostasy in the Church and the need to prepare the Bride, fit for the Wedding of the Lamb, as in Revelation 19:7-8.