The Great Separation Has Begun!
"And He said, "Go, and tell this people: 'Keep on hearing, but do not understand; keep on seeing, but do not perceive.  Make the heart of this people dull, and their ears heavy, and shut their eyes; Lest they see with their eyes, and hear with their ears, and understand with their heart, and return and be healed,'""   Isaiah 6:9-10.
"Woe to those who say that the world is ready for a golden age.  Woe to those who say that a new administration will 'right the wrongs' and set the nation back to victory.
You oh land of America, have flown the sign of the eagle as the emblem of your land.  But your land will be ravaged.  You cannot hold back my hand of what is coming.  You have ignored the plight of the poor.  You have put gold and riches above me.  The pride of the man coming will be his downfall.
And you say in your heart, 'Wouldn't you bless us now, for we have chosen the best of the land; we are rich, and we alone can do these things.'
But I tell you that you are poor.  You are poor in spiritual insight.  You say that you can see but you are blind.  You say that you can hear from me but you are deaf.
The great separation has begun."
*   *  *  *  *
From five years ago today:
"The Great Separation Has Begun"
(Is Seen in the Spiritual First and Then in the Natural)
December 29, 2011
"Nevertheless, God's solid foundation stands firm, sealed with this inscription: "The Lord knows those who are his," and, "Everyone who confesses the name of the Lord must turn away from wickedness,"  2 Timothy 2:19.
"For no one can lay any foundation other than the one already laid, which is Jesus Christ.  If anyone builds on this foundation using gold, silver, costly stones, wood, hay or straw, their work will be shown for what it is, because the Day will bring it to light.  It will be revealed with fire, and the fire will test the quality of each person's work,"   1 Corinthians 3:11-13.
"Therefore everyone who hears these words of mine and puts them into practice is like a wise man who built his house on the rock.  The rain came down, the streams rose, and the winds blew and beat against that house; yet it did not fall, because it had its foundation on the rock.  But everyone who hears these words of mine and does not put them into practice is like a foolish man who built his house on sand,"   Matthew 7:24-26.
This word began with a scene of a rock bridge that looks intact with some people on horses starting to walk across it.  However, then the bridge began to cave-in and the entire structure fell into the river below.
"The new year will bring many troubles to My people.  Those things that have seemed to be very strong and sturdy will fall, because you have depended upon the things of man rather than me.
But I AM the Rock of Ages.  If you are firmly rooted and grounded in me then you won't fall.  My people, many things will fall apart this coming year.  Many things in the natural will fall.  There are some of you who are not firmly rooted in me.  The stones of a building are held secure by its foundation.  Have you inspected your foundation lately?
Behold….  I tell you that the foundations of this earth will be shaken.  For the earth will "crack-open" in places that you think not.  Watch as it separates one section of the United States from another."
(Here I saw the map of the United States where I've seen it before with the Mississippi River shown.)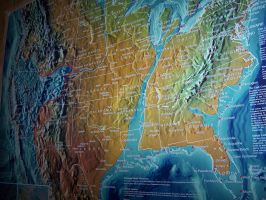 "Do you think that the foundations of the earth are secure?  I tell you that they are held in the balance only by My hand.  For this rift will be seen and it will develop. It will open up and swallow the earth around it.
 Those living in this area will be in danger.  You who are secure in your own making must assess your foundation.
Please consider my warnings as final.  For the great separation has begun.  These things are separated in the spiritual first and then in the natural.  That is all for now."
Selah,
~ Stephen Hanson
---
Stephen Hanson of In His Truth Ministries came to the LORD is a special way in 1975 and has prophesied regularly since.  In these end-time birthing pangs we are reminded that judgment must first begin with the household of God.  Will we be prepared and ready?