Visions into the Spirit World…
I lay in bed yesterday around 4 am sleeping lightly when I began to see and hear in the Spirit. I was dreaming about something but what I remember is awakening and seeing a very vivid vision. What I saw was very moving. It appeared right before my eyes, a vast expanse of what looked like a burned out orchard of fruit trees. Smoke was ascending up from the trees which had been burned and all you could see was the stark shapes of the remaining branches in the smoldering scene. Suddenly there appeared a remarkable glittering of thousands of sparks of hot explosions in among the trees which did fly upward bursting into flames. The scene reminded me of the wood burning stove in our house which we can watch the fire burn through the large glass window. As the fire burns hot I can shut off the damper until almost all the air is controlled and the fire will go almost completely out to suddenly burst in flames upward at the top of the firebox. It is quite a sight as you see the SECOND BURN as flames flare up above the coals in the stove.
As I looked at the smoking and exploding sparkles of hot flashes bursting into fire I was thinking, Oh what a scene of burning. I thought FRUIT BURNING. Fruit that was on those trees which had gone up into smoke. I think I was seeing BURNED FRUIT which was representing the CLEANSING FIRE which will cleanse away the fruit of no value.
As I lay there in bed (I than realized I was not in bed but in the Spirit) I was meditating upon the scene I had seen of the burning orchard, I heard the Lords voice saying, COME AWAY WITH ME… COME UP HERE!!!! Immediately I saw a Flash of the most beautiful blue and purple colors interrupted with flashes of white light. As I looked at the beautiful blue and purple colors amusing at their beauty I realized I was looking into a heavenly galaxy. I WAS SEEING INTO THE SPIRIT WORLD. I knew this because I have been here before and saw the same beauty.
I continued to see flashes of heavenly blue and purple colors with flashes of white light. In the white light I began to see people (in the bright flashes of light) but they were so far away I could not make out clearly their faces or to recognize anyone. I said, Lord they are so far away and i heard him say COME CLOSER… and immediately I focused upon them intently and I felt myself going closer and closer. Each time a Flash did appear I saw the faces until I was looking into the up close face of a man and his eyes were very close. I know I was looking into the eyes of Jesus. At one moment I saw him he was only a small figure in the white light and I could see he wore a white garment, the next moment I would feel myself gliding closer to him and I would see his head and profile and he would turn and look at me. I did not want to stop seeing these most beautiful visions but finally it came time to arise and go into breakfast.
I know now I had seen and heard from the Lord having had taken another trip into the Spirit World. I had seen also, destruction coming but heard him speaking COME UP HERE. I saw the Fire and the burning orchard which represented FRUIT IN THE FIRE.. than next I heard him speaking.
I have had other similar visions into the Spirit World. Some of them I now will give links for you to read. I have been caught up into the beautiful blue and purple lights and to see Jesus Christ before:
See also:
1) Image related to visions above and 3) below.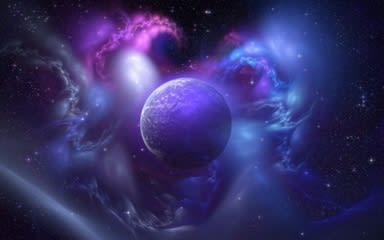 [This picture does somewhat show the colors and nature of the things I saw. The only thing missing is the Dark Clouds around the picture which would make it look like I was looking through a hole to see this picture.]
2) See Prophetic Word released on June 1, 2011
THE CRY… OF THE RISING!!
BRIGHT MORNING STARS SHINING EARLY IN THE SKY
Shortly before Christmas this last year I was in the DESERT PRAYING for ten days (Celeste and I) removed from everyone in this quiet and peaceful desert spot… Early in the morning one morning I got up before 3 am for my regular prayer time and built the fire up in the wood burning stove… I began praying talking in tongues. IMMEDIATELY I felt my self rising up in the morning sky. It was IN THE SPIRIT.. suddenly I could see the beautiful stars, it was not like the roof was missing, it was I WAS REALLY THERE.. I saw a shining LIGHT FAR AWAY YET CLOSE… The Brightness was brighter than all the other stars… I could see now it coming closer.. IT IS NO STAR! IT WAS JESUS STANDING WAVING…. I HEARD HIM SHOUTING "I'M OVER HERE!!!", COME TO ME HE WAS CALLING COME OVER HERE… I felt myself drawn to His CRY. Closer now I was getting closer… and I could now see Him clearly, yet far. It was at that moment I heard Him say something I have never forgot. It is still ringing in my ears… He said.. BE MY MORNING STAR! Well Lord that is what you are. Yes I am the Morning Star, but the MORNING STAR SHINES THE BRIGHTEST THE SUNS RISING, YET NOT SNUFFED OUT BY ITS LIGHT… SHINE SO BRIGHTLY YOU WILL THAT THE RISING SUN CAN NOT STOP YOU FROM SHINING STILL! wow.. that's true I said, the Morning Star shines in the sunrise and its Light remains because it is SO BRIGHT. Most of all the stars are snuffed out by the greater light. NOW… THE MORNING STAR STILL SHINS BRIGHT, even though there is a great light.
This is the way the NEW RISING WILL BE…. Like morning stars. Oh, are we not destined to even shine as HE… are we not told we will be CONFORMED INTO HIS IMAGE… TO BE LIKE HIM? Yes we are told this, NOT TO BE HIM, BUT "LIKE HIM" SHINING BRIGHT.
I hear again this morning as I read another word posted here, I HEAR THE CRY OF THE RISING MORNING STARS. Yes, a group not accepted in Religion… as far as religion is concerned these RISING ONES will look like "A MOTLEY CREW", but they are not motley but BEAUTIFUL AND GLORIOUS ONES… Yes, they will not fit in the Religious Man Made systems… Yes they take their orders from THE THRONE…. and each marches all in a row. (unity long sought for, now found). This is the AWAKENING, casting down dead religion… WALK OUT FROM ITS RUINS, rising UP MOST GLORIOUS! to meet the BRIDEGROOM. With lamps all filled and shining, and excess (oil) standing by… HALLELUJAH'S… MANY HALLELUJAH'S, SHOUTS OF GLORY RINGING CLEAR… watch this GLORIOUS RISING, BRIGHTLY DISPELLING DARKNESS, BRING GLORIOUS LIGHTNING, FLASHING FIRE!
Now folks get ready… I SEE AND HEAR THIS CRY.. RISE UP O YE BEAUTIFUL ONES INTO THE SKY. TAKE ALONG YOUR HOLY GHOST POWER IN THE LAMPS BY YOUR SIDE AND MARCH UP INTO THE SKY!!! I AM COMING, I AM COMING … YES I HEAR HIM CRY… I AM COMING FOR MY BEAUTIFUL ONES!!! FOREVER, YES FOREVER TO BE TOGETHER YOU AND I… I AM COMING, I AM COMING TO GET MY BRIDE!
3) Prophetic Word released on October 5, 2013.
~ PROPHET KEN DEWEY
---
Evangelist/Prophet/Pastor Ken Dewey is the founder of "OUT OF THE DESERT MINISTRIES" in Belen, New Mexico, USA. He writes on this Web Site, many Prophetic words, Sermons and teachings while leading people into true church settings and preaching in an End Time Gospel Ministry. NOTICE: One of the ways you can get involved in this OUT OF THE DESERT ARMY is to become a PARTNER or to GIVE A DONATION. We are believing God for many more Monthly Partners to stand with us in Monthly Giving and Offerings. If you have a desire to help and give, please know we need your help. God is sending people as I write to this place. We need your help and prayerful giving to enable us to do more for more people. Please send you pledge to becoming a Monthly Partner or to sow an offering into this Ground. To make a donation to OUT OF THE DESERT MINISTRIES please send to: PO BOX 223, BELEN, NEW MEXICO. PLEASE PRAY ABOUT SENDING A LOVE OFFERING TO SOMEONE WHO IS IN THE MIDST OF THE BATTLE FOR SOULS.. AND TO OPEN BLINDED EYES OF THOSE WHO ARE SLEEPING IN THE BODY OF CHRIST. WE NEED YOUR HELP TO DO ALL THAT GOD IS SAYING FOR US TO DO. THANK YOU ALL …