America: The Rain Dance of Revival! REVIVAL!
The Chiefs win the 2020 Super Bowl… Ha!!
I posted a dream I had a few days ago about the Hot Furnace Winds of God and native Indians doing a rain dance…!
See HKP Word, "America: Hot Furnace Winds of Righteousness and Justice Are Coming!"
In the dream I was perplexed when I saw native Indians rain dancing on the barren and scorched land, and as they danced and sang heavy rain clouds gathered over the land and then came heavy rainfall and as the land was soaked and saturated great transformation, restoration and reformation came to the land.
Having heard this morning about The Chiefs winning the 2020 Super Bowl, now I can understand some of the details in my strange dream and the great significance of it.
Today many are sending me a prophecy by Bob Jones that spoke about The Chiefs winning the Super Bowl it's wonderful when God begins to confirm His Word.
I love it when the puzzle pieces start coming together.
We all prophesy in part… Hallelujah!!
"America! Listen! Time to go up its the sound of the abundance of rain"…!
Bob Jones' Super Bowl Prophecy
It seems there is no written record of Jones' Chief's prophecy which comes to pass when the Chief wind a Super Bowl.
However, Shawn Bolz went on the public record on Facebook on January 20, 2020 as follows:
"Bob Jones had heard from God that the chiefs would go to the Super Bowl and win it. He shared that when they won it would be a sign of upcoming and end time revival.
He explained that God is raising up His chiefs to be apostolic leaders in many spheres of influence.
Today if you follow football you will see that the Chiefs have their first chance for 50 years as they are going to the Super Bowl! This could be the time! Let's pray!"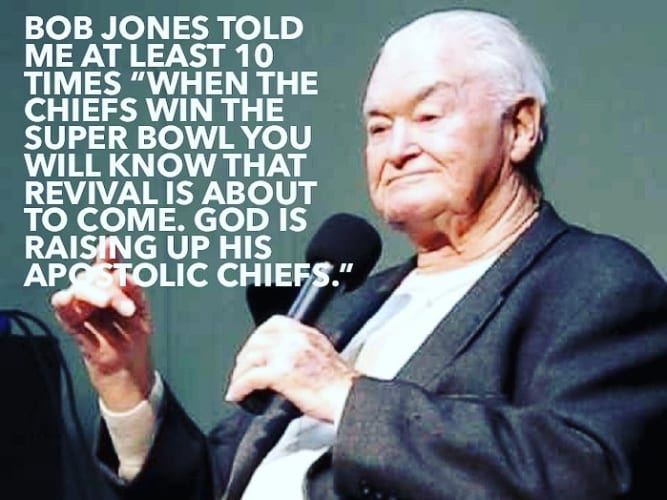 Blessings to you all.
~ by Veronika West
---