Once You've Heard The Voice of God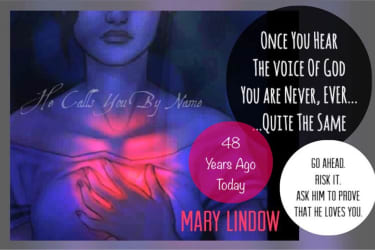 Tonight, 48 years ago, a fearful, sad, young 15 year and 364 day old girl, walked into a small gathering in a church basement filled with people from all walks of life, all ages and from mixed denominations and races, and the voice of God, Called out to her.
She had planned to go out stealthily the next night (her 16th birthday) with her old brother and finally do all of the "cool things" that others were doing to "fit in". Drink, maybe smoke, hang out with the cool guys and flirt or, do more.
But ever since her very young childhood, there had been a "knowing," a communication with a "Presence" that had walked with her, made her aware of pain and joy and a deeper love.
On April 30th 1972, the night before she was going to cast that safe childhood relationship and peace all to the wind…
…that Voice, that "Presence" that had walked with her…
…got her to a meeting she hadn't planned on going to, and an overwhelming Ache and Hunger to fully surrender her life to a Call that was going to cost more than she would ever know….
…took place.
The Voice. The Love, The Nurture.
It scooped her up into a Place of Hope and Belonging.
There was no need to perform, work, to prove, to grovel, nor fit in.
All that was needed was to simply to accept the gift of the cup of Grace, offered from the One who created her and who sent His Son to die for her, and trust her life fully into his forgiveness and care.
I cannot deny the unmistakable knowing and shaking to the core of my life that took place!
Forever set apart for the use of the One who held my heart and mind together, and who loved me. Hard, hard things have come and gone and have shaped and shaken and tried my life.
But no matter how many times the storms have gathered or raged…
…His Voice, His Kindness and His Direction, have never left me nor failed me.
He is calling YOUR name…
…Open your ears to the sound of love, hope, acceptance, a whisper of a Father's nurturing kindness. Not the sound of doubts that tell you that it won't happen for you.
Risk it.
Ask Him to prove that He is there. That He is real.
But… Be ready to never, EVER be same again.
He's that powerful and magnificent.
And His Love… It's overwhelming.
When we finally hear the voice of God, we will not be worried by the noise of circumstances, the noise of the devil, or by the noise of men.
Once you hear the voice of God, the noise of the enemy will no longer have a say in your life. It is those who have not met with God that are scared by men.
You may have unnerving moments, and days where life seems so very hard to endure, but That Presence, That Voice…
It will call to you, whisper to you telling you to rest in Him and to Call out His Name.
He WILL come to you……. TO YOU!
He will help you, teach you and Help you to heal.
Peter began to sink when he chose to heed the noise of the wind and waves rather than the voice of the Master that had told him to come.
As long as Peter drowned out the noises of the winds and the waves, he did the impossible and walked on the water. The moment he heeded the noises of the winds and the waves, he began to drown.
My dear reader, Drown out all the other noises or they will drown you.
Shut the noise down!
Nothing will give you stability towards your destiny like the voice of God.
Shhhhh! Silence the feelings of being unwanted, unworthy, unprepared to be received by God. He already sees and knows you well.
The tip of his finger formed you. He has exceptional fondness for you. Exceptional compassion.
God leads when we are still.
God shows us things when we are still.
God speaks when we are still.
"It is good that a man should both hope and quietly wait for the goodness and kind arms of the mercy of the LORD," Lamentations 3:26.
In His Shadow,
~ Mary Lindow ©
Duplication and sharing of this writing is welcomed as long as complete message and website information for Mary Lindow is included. Thank You!
" THE MESSENGER " ~ Mary Lindow
www.marylindow.com
www.globalprayerrooms.com
---
Mary Lindow has a passion for encouraging others – all generations, careers or vocations to live expressing excellence through personal integrity, healthy accountability, and wise management of talents and skills. She's a sought after keynote, inspirational, humorous speaker and teacher across the USA and internationally in Ministers & Spiritual leaders Conferences, and training seminars for various organizations.