I saw online that in Great Britain the children were making pictures of

rainbows

and hanging them in their windows for everyone to see as

a Sign of Hope

!
See "The Sun" UK Newspaper, "Families cheer up other Brits in lock-down by decorating houses with rainbows and words of hope."
God said to me, "See how I use my littlest Warriors to take back what the enemy tried to steal and thought was his. But see even the littlest Warrior is useful and valued by Me!"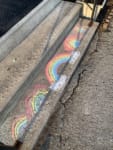 I sent this out to friends through text, excited about it. But then my daughter-in-law texted me back with pictures and a text, telling me that their phone area code has a Facebook group and people in that area code are putting Rainbows of Hope in their yards, on windows, driveways, sidewalks, steps, and posting them.
They then do a "rainbow hunt" when they go out for walks or drives.
A wonderful way to share God's love and hope for everyone!
God Bless You!
~ Beverly Juelsgaard-Fischer
---
Beverly Juelsgaard-Fischer