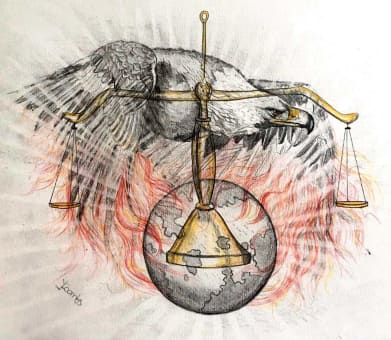 I drew this picture a few months ago, yet knew it had to wait for release.
On 8th August, in the early hours, I heard what sounded like heavenly trumpets for several minutes. This sound will dismantle dark agendas, releasing a heavenly atmosphere over the United Kingdom going forward from now.
In the picture the arms of the balance are shown to be stretched across the eagle's back, as the burden given to His watchmen has been great.
When I drew these scales John 17:17 was shown to me.
"Sanctify them by the truth; your word is truth".
The number 17 means Total Victory, the restoration of all things.
The remnant who have been graced to see far ahead with eagle precision, are preparing for what God will be releasing upon the earth, including governmental authority to change the nation. (Isaiah 22:22)
The refining fire deepens the unity of the Apostle and Prophet. The eagle decrees and the Apostolic balances to bring order, yet they work as one.
The five fold ministry comes into greater fullness. (Ephesians 4:11-12)
The eye of the needle at the top of the balances will have a golden thread to stitch those open wounds and heal the nations.
The Cross of Sacrifice and victory over death is central!
The eagle is pregnant and is ready to birth the Kingdom revivalists.
The golden balance bell-like base will ring out in VICTORY over the pulling down of man-made thrones and alters.
Those who have fanned the Holy Flames in Intimacy and who desire for more of God are to bring in the greatest harvest of all time.
"But those who hope in The LORD will renew their strength. They will soar on wings like eagles; they will run and not grow weary, they will walk and not be faint," Isaiah 40:31.
"The plans of the heart belong to man, but the answer of the tongue is from The LORD. All the ways of a man are pure in his own eyes, but The LORD weighs the spirit. Commit your work to The LORD, and your plans will be established. The LORD has made everything for its purpose, even the wicked for the day of trouble. Everyone who is arrogant in heart is an abomination to The LORD; be assured, he will not go unpunished," Proverbs 16:1-5.
~ Yvonne Coombs
---
Yvonne Coombs. Please also see Yvonne's Prophetic Art here at "Yvonne's Paintings" on Facebook and on Instagram @y.coombs.art