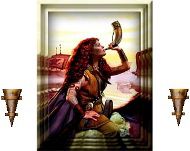 The bible speaks of King Davids mighty army in 1 Chronicles 12:8. Some of them were Gadites who the bible describes as men of valor, men trained for battle, who could handle shield and spear, whose faces were like the faces of lions, and were as swift as gazelles on the mountains. The Lord showed me this scripture as an analogy of His end time army. His end time army is called to great exploits and will march together as one.
The Lord says, I am raising up an end time Army who are strong and very courageous. I am looking for men and women of valor. They are those who are bold, and defiant in battle. As you stand immovable and refuse to be intimidated, I will cause your enemies who rise up against you to be defeated before you; and they will come out against you one way and will flee before you seven. I am calling forth the warriors who will never retreat when the adversary comes against them because I have trained their hands for war and their fingers for battle. To those who I place on the front lines are those who are able to stand against the warfare and to them I will reveal the secrets from the kingdom of darkness and expose their strategies. My warriors will recognize that it is not flesh and blood that they are battling against but of powers, principalities, rulers of darkness and wickedness in high places. They are highly experienced and proficient in the performance of their duties and they know their mission. They are those who understand the significance of wearing the full armor of God. They know their rank and are submitted to their authority therefore they stay in the position to which they were assigned.
I am looking for those who are bold and ready to face challenges, tenacious in spiritual warfare, alert and watchful of the enemy. They are those whose faces are like the faces of lions. Those who see them recognize the strength and determination that they carry. Their enemies see the tenacity inside of them, therefore they cower back in fear. They do not become discouraged and will never compromise. They are as fierce lions against the kingdom of darkness and they will stand immovable in the face of adversity. They are as swift as gazelles on the mountains, mobile, active men and women, ready to fight wherever and whenever they were needed. They will watch out for one another and be careful to avoid friendly fire. Those who enlist in My end time army will never have to be concerned with the wiles of the evil one because they know that I am standing with them at all times. As My end time army emerges, I will give them the wisdom, discernment and understanding as I reveal and My strategies for the days ahead says the Lord.
Deuteronomy 28:7 "The Lord will cause your enemies who rise against you to be defeated before your face; they shall come out against you one way and flee before you seven ways."
1 Chronicles 12:8 "Some Gadites defected to David at his stronghold in the wilderness. They were brave warriors, ready for battle and able to handle the shield and spear. Their faces were the faces of lions, and they were as swift as gazelles in the mountains."
Psalm 144:1 "Blessed be the Lord my Rock,Who trains my hands for war, and my fingers for battle."
2 Timothy 2:4 "No one engaged in warfare entangles himself with the affairs of this life, that he may please him who enlisted him as a soldier."
ELAINE TAVOLACCI
Staten Island, NY
www.awordinseason.info
www.TheVoiceOfBreakthrough.com